Most elderly people reside in establishments where long term care facilities are supplied which include nursing, supervising and other types of care as generally required by them. These homes or aged facility care organizations provide a blend of health and social services. The medical part of care is, however, less demanding than the hospital provisions.
Most often, those living in residential care are hospitalized for some illness or the other. In most cases, hospitalization is unavoidable and convenient for the patient and care giver. Although some do not require to be hospitalized for long, sometimes within a short period of being discharged they have passed away or unable to function properly. This could be due to a breakdown in the residential care setting and atmosphere.
Most residential care homes are not equipped with hospital beds and although the residents have got a strong motivation of improving in their own homes, lack of proper equipment such as the hospital beds are a great handicap.
The main purpose of hospital beds in a home or aged facility care is to allow the body to a position which is not possible in a normal bed and also due to being able to attach other equipment that cannot be fixed on a normal bed.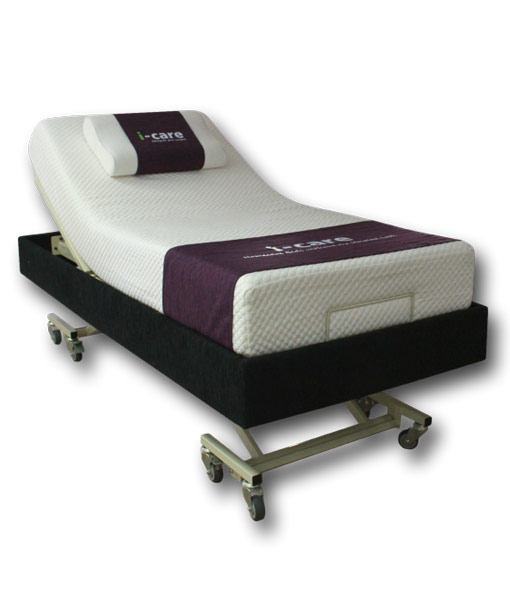 The necessity of a hospital bed:
It becomes necessary to use a hospital bed when certain needs are identified.
Changes in body positions that are not possible on a normal bed
Certain body changes required to relieve pain that is not possible on a normal bed.
Having the bed head elevated most of the time due to chronic pulmonary disease, congestive heart failure, etc.
The necessity to attach traction equipment to the bed.
Benefits:
There are several benefits from using a hospital bed.
The patient will be able to get in and out of the bed easily and safely.
Reaching a standing position to walk with crutches, walker or cane.
Easily transferring from wheelchairs or bedside commode
Placing the bed at a convenient height to assist with position changes like bathing, eating, turning and other bedside care.
Hospital bed attachments
Bedside rail is a tool used to protect the patient from falling off the bed and very useful especially when the patient's mobility is limited.
Trapeze bar is a device that assists the patient to change position on the bed independently, to do their personal work such as move onto a bedpan, transfer from a wheelchair or move from bed to bedside commode with little help from the caregiver or attendant
Independent Living Specialist is one such institution that cares for the aged population by providing equipment to make their lives easy and independent. A wide range of Hi Lo adjustable hospital beds to suit a variety of needs is available at Independent living Specialist. These beds give the elderly the required comfort and support for a good night's sleep. The stylish design and sturdy build of the beds could be adjusted to ensure ultimate comfort. You will definitely be able to find an adjustable hospital bed to match your budget and meet all your needs. Hospital beds are mixed with style and practicality, giving the patient the best care and feeling of being more at home.